Read:
Isaiah 60:1–12
Arise, shine; for your light has come, and the glory of the Lord has risen upon you. 2 For darkness shall cover the earth, and thick darkness the peoples; but the Lord will arise upon you, and his glory will appear over you. 3 Nations shall come to your light, and kings to the brightness of your dawn. 4 Lift up your eyes and look around; they all gather together, they come to you; your sons shall come from far away, and your daughters shall be carried on their nurses' arms. 5 Then you shall see and be radiant; your heart shall thrill and rejoice, because the abundance of the sea shall be brought to you, the wealth of the nations shall come to you. 6 A multitude of camels shall cover you, the young camels of Midian and Ephah; all those from Sheba shall come.They shall bring gold and frankincense, and shall proclaim the praise of the Lord. 7 All the flocks of Kedar shall be gathered to you, the rams of Nebaioth shall minister to you; they shall be acceptable on my altar, and I will glorify my glorious house. 8 Who are these that fly like a cloud, and like doves to their windows? 9 For the coastlands shall wait for me, the ships of Tarshish first, to bring your children from far away, their silver and gold with them, for the name of the Lord your God, and for the Holy One of Israel, because he has glorified you. 10 Foreigners shall build up your walls, and their kings shall minister to you; for in my wrath I struck you down, but in my favor I have had mercy on you. 11 Your gates shall always be open; day and night they shall not be shut, so that nations shall bring you their wealth, with their kings led in procession. 12 For the nation and kingdom that will not serve you shall perish; those nations shall be utterly laid waste.
---
THE GLORY TO COME
Cities have become so synonymous with evil and corruption, poverty and injustice that we tend to overlook the significance of the city in the Bible. The Scriptures often speak of the City of Zion or Jerusalem as a picture of God's rule and his presence with his people. Here the prophet is encouraging God's people whose city had been destroyed, assuring them that darkness and despair would give way to light and hope and that God would establish his City – the City of Zion. He pictures the sun rising over Jerusalem – a sight that tourists today still marvel at as it lights up her walls and towers, the domes and roofs.
Historically Isaiah's words came true, for against all odds, the Jews returned to Jerusalem and rebuilt it. Cyrus the Mede, as Isaiah had indicated (Isaiah 45), did conquer Babylon and in 520 BC he decreed that the Jews could return to their homeland.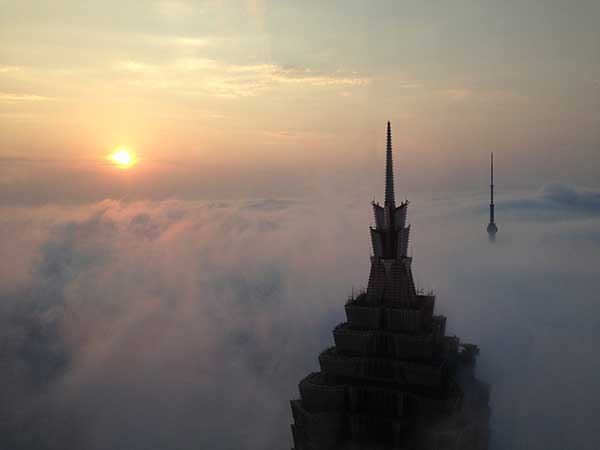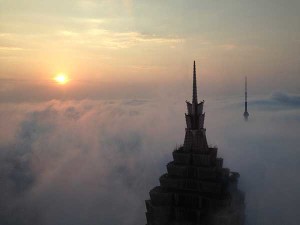 But Isaiah was not just pointing to the city of Jerusalem that was rebuilt after the exile. He was pointing to the time when God's rule would come down to earth.  God would bring in a whole new order, a new creation. The city of which Isaiah spoke was a picture of God's rule and the glory of a new and lasting city where God himself would fill the city with the light of this presence.
The imagery of light and darkness is often used to portray God's creating work. In Genesis 1 we read that thick darkness covered the earth, but God's light overcame it. Here in Isaiah 60 darkness is a metaphor for moral evil and spiritual blindness. Light is a picture of God's coming to rescue his people. In God's new city there will be no need of a sun or a moon, for God's glory will shine forever.
Notice too that God's light will shine world-wide: Nations shall come to your light (60:3), and kings to the brightness of your dawn. Those who refuse to turn to God will perish (60:12). It is one of the ironies of history that the power of Rome that crucified Jesus in the first century, capitulated to him in the fourth, when the emperor Constantine was baptized. It is striking proof that Isaiah's words were no dream. The power of human kingdoms will fail and the kingdoms of the world will amass their wealth, only to lay it down again at the feet of the King of kings.
It was an inspiring and encouraging picture. How much more should it encourage us, for we live on the other side of the coming of God's King, Jesus the Messiah. With his coming we can see much more clearly the success of God's rule. God's rule and God's royal City will be established in glory and greatness forever.
More than six hundred years after Isaiah wrote, one of Jesus' biographers, Matthew, tells us that wise men came from the region of Babylon to Jerusalem bearing gifts and seeking the one who had been born 'King of the Jews'. They had come to worship him. It was inside the walls of Jerusalem that Jesus taught, it was outside her walls that Jesus died. Thousands in that city were drawn to him and came to worship him. Since that time billions from around the world have come to him. People from all nations have poured their wealth into his service. It is an amazing picture; it is a picture that we long for. The great thing is that it is a picture that, because it is grounded in history, rings true.
Furthermore, Isaiah tells us there will be a permanence about God's City: Whereas you have been forsaken and hated, with no one passing through, I will make you majestic for ever, a joy from age to age (60:15).
Forever and everlasting are key words. At one level we see that Jerusalem is a city of bricks and mortar — a city in history. At another level we see Zion as a glorious everlasting City with its inhabitants gathered by God to be with him forever: You shall know that I, the Lord, am your Savior and your Redeemer, the Mighty One of Jacob (60:16). Furthermore, God himself will give light to his people: Your sun shall no more go down, nor your moon withdraw itself; for the Lord will be your everlasting light, and your days of mourning shall be ended (60:20).
WHAT'S THE POINT?
There are times in life when we are tempted to ask, 'What's the point of going on?  What's the point of raising a family? What's the point of praying and going to church? Whatever I do is pointless.'
By way of answer, Isaiah uses the language of the first city of Jerusalem to point us to our ultimate destiny. Believing people from all ages, from all nations, will one day be beneficiaries of God's ancient promises to Abraham, Moses and David. People will be drawn from every generation, from every corner of the world to be with him in the City he has created. Revelation 21:1–5 picks up the imagery:
Then I saw a new heaven and a new earth; for the first heaven and the first earth had passed away, and the sea was no more. 2 And I saw the holy city, the new Jerusalem, coming down out of heaven from God, prepared as a bride adorned for her husband. 3 And I heard a loud voice from the throne saying, "See, the home of God is among mortals. He will dwell with them as their God; they will be his  peoples, and God himself will be with them; 4 he will wipe every tear from their eyes. Death will be no more; mourning and crying and pain will be no more, for the first things have  passed away." 5 And the one who was seated on the throne said, "See, I am making all things new."
This is our ultimate destiny — a City, a new Jerusalem, with countless throngs of people; a City where there will be meaningful relationships and social structure, and even work to do; a city where there will be no more grief; and above all, a city where God himself will be seen to be with his people. It is an awesome and exciting picture.
However, we need to be realistic: God's new Jerusalem will only be brought in through his intervention. The new city lies on the other side of a cosmic discontinuity which God must bring about. Only then will God's people be delivered from the tragic consequences of the present world. We need to be biblical followers of Jesus Christ. What we do in this world has significance, what we do in this world can change things, what we do in the service of Christ in this world lasts. When we know that, we know why we work, why we try to improve the world, why we create: all of our work has a place in God's new order and will be made a part of the City that he will build. It is exactly that kind of hope that this great prophet of ancient Israel is encouraging us to embrace in this chapter when he says, Arise, shine; for your light has come, and the glory of the Lord has risen upon you.
Consider:
1.   the response of Isaiah's first readers to the words of this chapter;
2.   your response to Isaiah's words when you feel that there's no future for you;
3.   how you can be a 'biblical Christian', living a meaningful life now with the tension the hope of God's new city before you and knowing that God has a purpose for you now.
Pray: